Best bathroom radiator ideas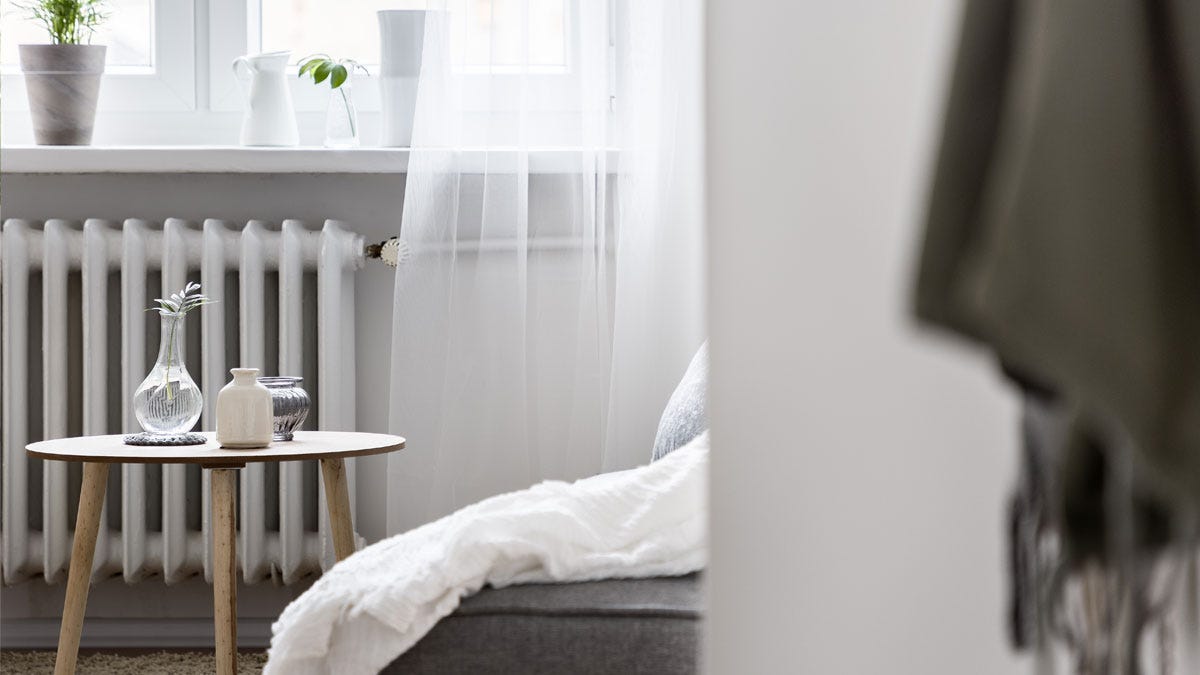 With more and more scientific studies proving beyond doubt that good quality sleep is absolutely essential for our health and well-being, it's important that you get the ambient temperature in your bedroom right with a top notch radiator. Not only will a radiator ensure you are warm enough for a good night's sleep, but it can also help you get off to a good start to the day by encouraging you to get up rather than facing a freezing cold room where you just want to stay in bed and hit snooze.
Using our heating calculator will give you an idea of the amount of heat needed to warm your bedroom, but you'll also want something that looks good and suits your décor. In this article, we'll show you our 5 most popular bedroom radiator ideas which should hopefully give you some inspiration for choosing the right heat emitter for your bedroom.
#1 - K-Rad Single Panel Convector Radiators
You'll immediately recognise these classic, white radiators and for good reason. Convector radiators are fantastic, no-nonsense rads that do the job of heating up a room efficiently and effectively.
As the most common type of radiator in the UK, convector radiators are great because they come in such a wide range of sizes. This usually means you will be able to find a convector radiator of the same dimensions as the one you are about to replace, which helps to keep installation costs down to a minimum.
We've singled out our K-Rad single panel convector radiators with a specific purpose in mind. If you have a small bedroom where space is tight, then a single panel rad will work perfectly due to its small projection from the wall. It won't stick out far so you will be able to move past it or position furniture without the fear of bashing into the radiator each time.
#2 - 1200mm+ Horizontal Radiators
If you have a large bedroom and want to ensure that it is capable of circulating hot air evenly around your room, we recommend that you get a radiator with a width measurement of at least 1200mm.
Most bedroom radiators are installed under the window and so it makes sense to upgrade to a wide, horizontal radiator to slot into that space. Unlike in a small bedroom, you can go for double panelled radiators which will give you considerably more heat output.
We have a massive range of 1200mm wide horizontal radiators in stock, with finishes such as anthracite-grey, black, white and chrome finishes. If you have a large bedroom that needs a beast of a radiator, then do make sure you check out our extension range of 1200mm rads so that you get the perfect horizontal radiator for your big bedroom.
#3 - Classic Column Radiators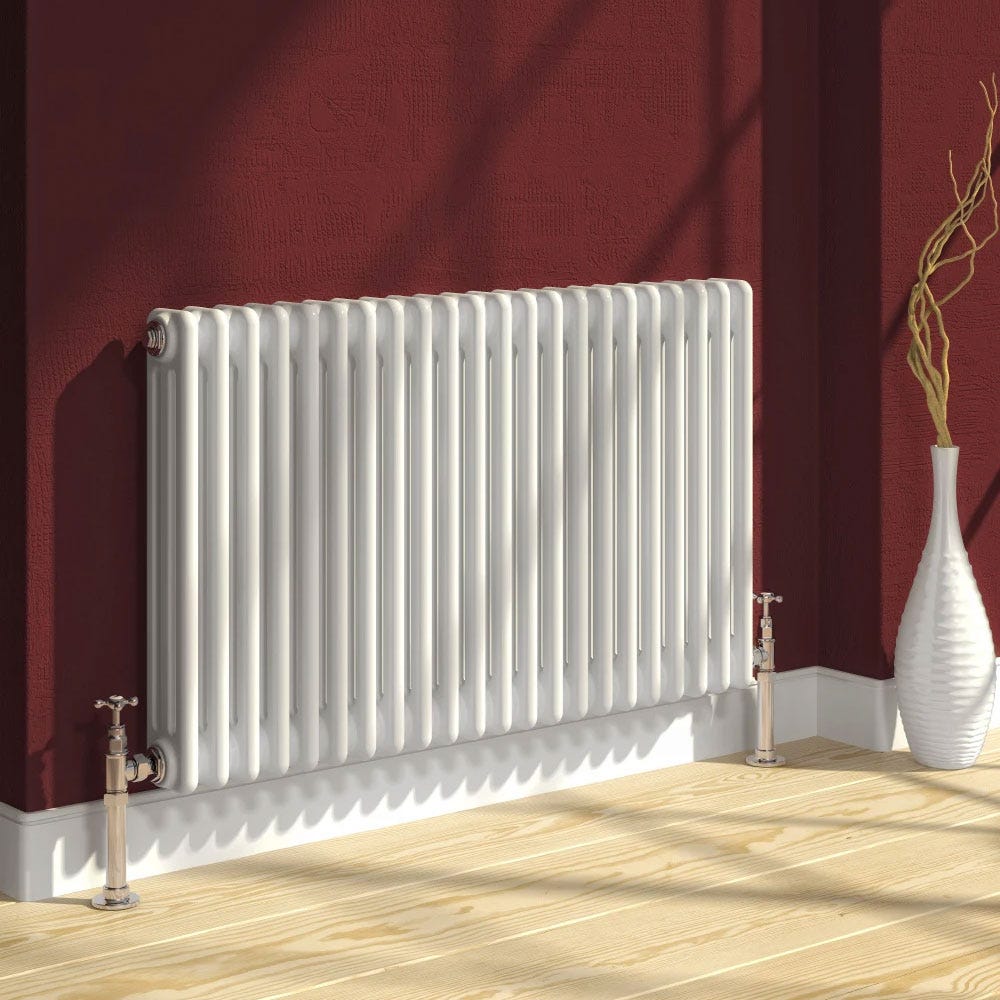 Many people want a fairly neutral radiator in their bedrooms because a bedroom is a place to switch off and relax, rather than somewhere to stimulate your mind with an outrageous design. However, not everyone wants to go mainstream and install a standard convector radiator, preferring instead to have a radiator that quietly adds some sophistication in the bedroom. This is where the classic column radiator comes in.
Classic column radiators have a sleek vertical column design that are depart from standard design and err more towards cast iron styling, but without the ornate detail and heavy weight. Column radiators are timeless and look great in all types of property, managing the beautifully straddle the line between classic and contemporary.
Though the most popular colour for a column radiator in the bedroom is white, we also offer this design in anthracite, silver and polished metal from a range of manufacturers.
#4 - Trade Direct Saturn Radiators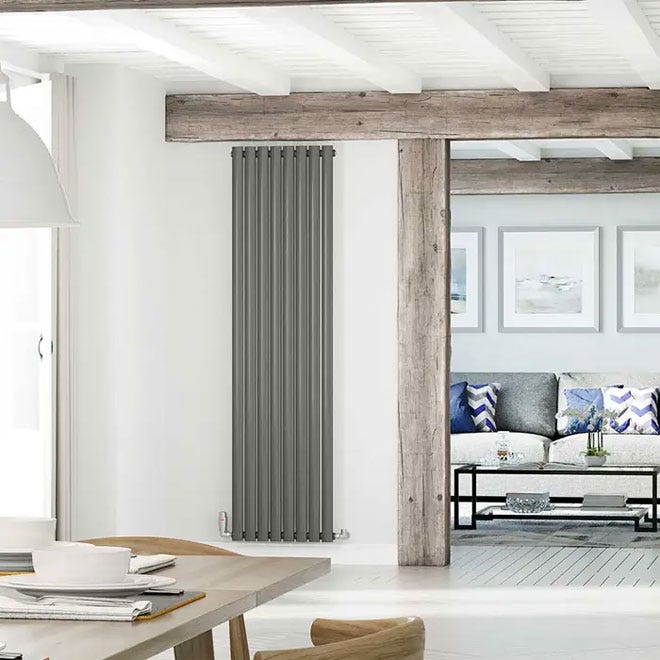 If you want to add some serious style to your bedroom but without going over budget, then the Saturn range of radiators from our Trade Direct line are a fantastic option. Trade Direct is our own, affordable brand of rads and the Saturn is one of our best sellers for bedrooms.
Available in white, black or anthracite, the curved panel design adds a real sense of sophistication to any bedroom a Saturn radiator is installed in. As well as being available in horizontal orientation for traditionalists, the Saturns also come in a vertical option. Vertical radiators are great for those looking to get a good amount of heat into small spare bedrooms, or simply to make the most of upward space in order to give more choice of furniture placement.
The Saturn radiators are also available with a choice of single or double panels so whatever the size of style of bedroom you have, you're sure to find a Saturn radiator to fit.
#5 - Designer Aluminium Radiators
If you really want to get serious about your heating in your bedroom, then you really must consider a radiator from our well-regarded aluminium range. Aluminium is a fantastic conductor of heat, so when used to manufacture radiators, it results in a radiator that gets up to the desired temperature really quickly. Not only do you feel the benefits of heat very fast, aluminium radiators can also have a positive impact on your heating bills due to their low water usage and lower energy use. A high percentage of each of our aluminium radiators are manufactured from recycled metal so this is a radiator material for the eco-conscious householder.
We have a great range of aluminium radiators in several different colours and in a variety of styles, including ones mentioned above. We stock aluminium column radiators and horizonatal and vertical aluminium rads so you're really able to delve deep and choose an alu-rad that works perfectly for your bedroom.
Not many brands make aluminium radiators so you can be sure that the ones we've curated on our website are absolutely top quality and will make an eye-catching focal point to any bedroom one is installed in.