Due to shows such as Homes Under The Hammer, it's become very common f0r people to get into the property renovation business. Often people buy a cheap property at auction with the intention of doing it up as cheaply as possible in order to put it out on the rental market. It's very common for these types of properties to need new central heating systems, which includes installing a brand new set of radiators throughout the property. In this post we list our top 5 radiator ranges that are perfect for landlords looking to upgrade their radiators economically.
K-Rad Compact Radiators
Trade Direct White Heated Towel Rails
Trade Direct White Column Radiators
We can help
---
K-RAD COMPACT RADIATORS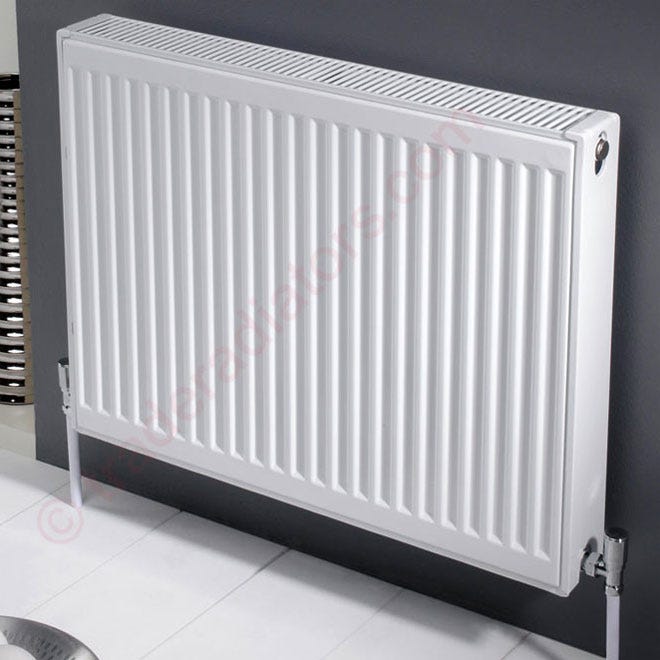 When we close our eyes and think of a radiator, it's inevitably going to be a white rectangular block with grooves down the front of it. That's natural as those are the types of radiators we all grew up with. If you're in the process of renovating a property with a view to rent it out to tenants, then it's likely you have a pretty tight budget. It's also likely that you are taking a functional approach to fixtures and fittings rather than blowing unnecessary money on fancy designer brands. If this is the case, then the K-Rad Compact Radiator range are perfect for those kitting out a home and taking a no frills approach. The K-Rads are among the lowest price on our website, and they're hardly going to win any awards for innovative design. However, they are reliable, efficient and will do the job of heating a home effectively, which is exactly what you want from a radiator. These radiators are very easy to install and come in a huge range of sizes, perfect for squeezing a radiator into a tiny space, or filling a particularly large area under a window. Whatever size you need for your particular room, you are almost guaranteed to find exactly what you're looking for with the K-Rad. Although the K-Rad Convector radiator range is very affordable and definitely functional above stylish, that isn't to say the rads are completely devoid of character. Indeed, they are finished very nicely with side panels and a top grill, which helps to keep the rather ugly convector fins out of sight. All radiators come with a comprehensive 10 year and they also have the option of single or double panels, meaning you can get both the size and heat outputs to match your specifications exactly.
---
TRADE DIRECT WHITE HEATED TOWEL RAILS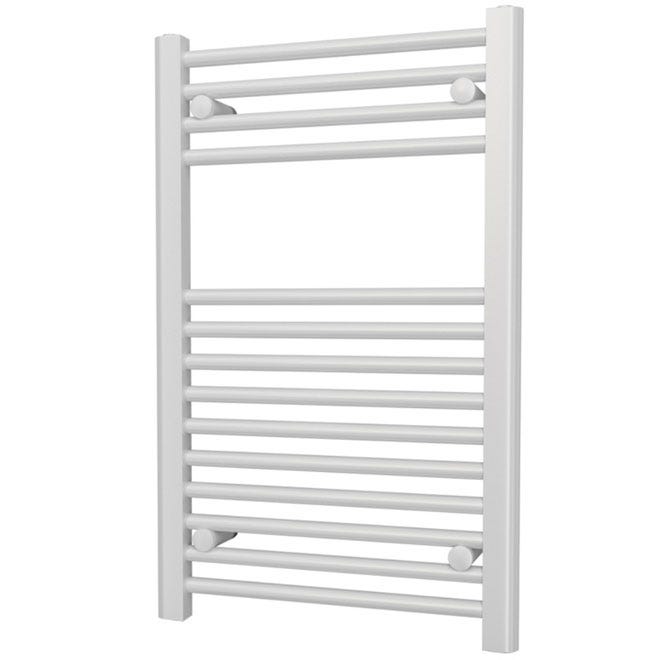 If you're feeling generous, or you're adding extra 'luxury' items to your property in the hope of being able to charge a higher rent, you may well be considering installing
heated towel rails
in the bathrooms. Adding towel rails to bathrooms are particularly popular among landlords who own a whole block of apartments and want to furnish each unit identically to a mid-range standard. If this is something that you are considering doing, then we recommend fitting one of our Trade Direct White Heated Towel Rails. They're very durable and affordable, but they are more than capable of adding that higher level of finish that you require. The smallest of the towel rails is 800 x 400mm which is a very popular size for those wanting to squeeze a towel rail into a small bathroom. Of course, they are available in larger sizes too so you will be able to find a suitable size no matter what your needs. Our Trade Direct rails are available for standard hot water heating systems, but also in an electric version to, which is handy if you don't want to go to the trouble of hooking up a towel rail to the central heating. Manufactured from high quality mild steel, these towel rails are finished in a crisp white powder coating and have the additional option of straight or curved bars.
---
TRADE DIRECT WHITE COLUMN RADIATORS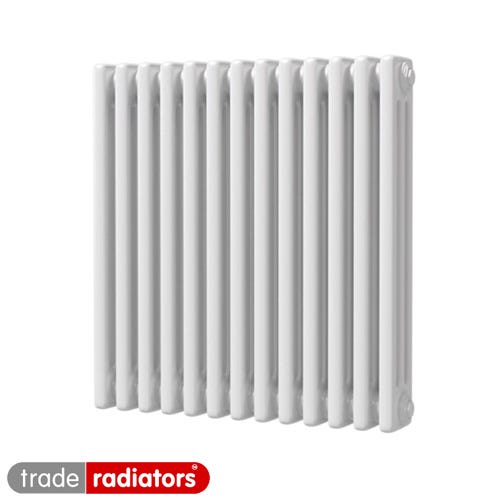 If you're aiming your property at a high end market, then a very simple and affordable way to do this is by installing classic column radiators. These type of radiator look fantastic in any type of property and help to give the overall impression that fittings have been deeply thought, by moving away from the standard white convector radiator. The truth is that these radiators are not particularly expensive, with the cheapest in our range starting at £90. However, when it comes to renting, impression is everything and classic column radiators always help to lift a property from basic to premium. Our Trade Direct Classic Column radiators provide the best value in this style. They come with a thick white powder coat finish which is very easy to keep clean. The columns are also seamlessly welded, providing an overall high quality look that gives the impression of being more expensive than it actually is. They come in a massive variety of sizes, including vertical orientations, so you will be able to find a rad to fit any type of space you need. These column radiators also come with a choice of 2, 3 or 4 rows of columns, which provide higher and higher heat outputs as you go up the sizes. If you are thinking about aiming for the higher end of the rental market, then serious consideration should be given to our classic column radiators
---
We can help
If you're unsure about what you need, or require some help with heat outputs, room sizes and types of radiator, then our very helpful customer support team are available to help. We enjoy helping our customers make important heating decisions and are always on hand to give style suggestions as well as provide further information on technical aspects of our radiators. Our helpline is 0141 225 0430 and is open 8.30am - 6pm Monday to Friday. Alternatively, we can be contacted on info@traderadiators.com or on our Live Chat Window on our website. We look forward to hearing from you!
---
RELATED ARTICLES
•
How we can help if you have a large radiator project
•
What's the difference between compact, round top and seam top radiators?
•
What's the difference between single and double panel radiators?
---