Here at TradeRadiators.com, we are delighted to announce that we have overhauled our website, making it even easier for you to find the perfect radiator or heated towel rail for your home.
Here are some of the highlights and better functionality that our new site can offer you in your quest to find the right rad:
New range of search functionality - search by colour, material, size, pipe centres, heat output, orientation.
Easier and simplified menu navigation to help you find exactly what you want.
Compare feature - line up different products side by side to see how their features and functions compare for the money.
Massively expanded electric radiator section, including our brand new electric cast iron radiators!
Expanded radiator valve section - choose from over 100 different types of radiator valve, from modern to traditional and including a wide variety of thermostatic radiator valves.
Now you can shop by room! If you are looking to re-rad a particular room, you can now look just look at radiators that are perfect for each room in the house.
We've hugely increased our smart heating controls section, giving you a massive selection of ways to control your central heating from your smart phone or tablet.
Navigating our website has also become infinitely easier, with it being better optimised for mobile devices and a faster checkout process to make purchasing your favourite rads and rails easy!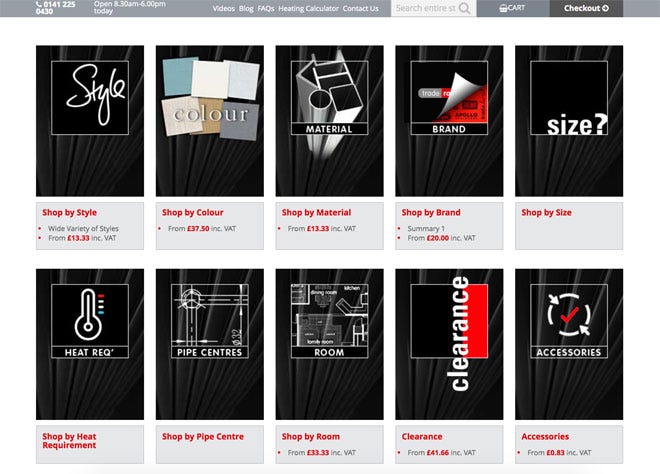 Get on over to our brand new website and discover that its easier than ever to find the radiator, heated towel rail and valves of your dreams.
As part of the celebration were also offering 20% off all Trade Direct products (our own, economical brand) using code LAUNCH2019.
Simply use it at checkout to get 20% off your entire order of Trade Direct products. Free delivery to all mainland UK addresses. Limited time only!