When thinking about decorating a room to your personal specifications, it's very easy to get carried away with colour schemes, accessories and different types of furniture in an effort to introduce a sense of individuality. However, in this article we will show you how your choice of radiator can make a massive difference to the appearance of a room, without getting extravagant, needing to become an interior designer or spending a fortune.
Cast iron radiators
Classic column radiators
Black designer radiators
Aluminium radiators
Heated towel rails
---
CAST IRON RADIATORS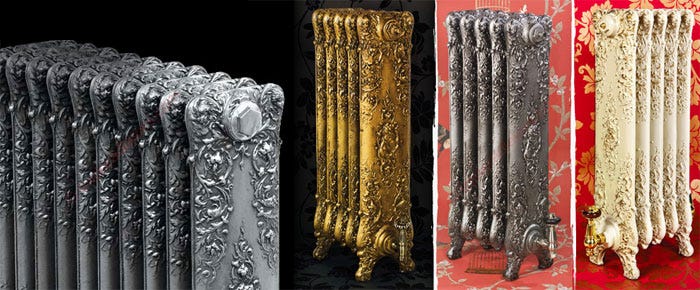 If you want some instant, rustic charm, then you need to look no further than the trusty cast iron radiator. Since the 1850s, when the modern radiator (or' hotbox' as it was originally known) was invented, the cast iron style has continually remained in production, providing heat across the world in a massive variety of environments. Modern technology has enabled cast iron radiators to be much quieter and more efficient than their ancestors, but the aesthetics have changed very little. While cast iron radiators look particularly good in period properties, there is actually no reason why one couldn't be installed in a modern and minimalist apartment, providing a nice detailed contrast to the clean lines permeating the rest of the living space. Many of our cast iron radiators are decorated with intricate carvings, though there are also a lovely selection of plainer rads that still contain that classic cast-iron style of years gone by. All of our cast iron rads are made to order and can be customised to your individual specifications, including choice of colours and valves. If you're looking to create a centre-piece in your home, then a fantastic and affordable way to do it is by installing some classic cast iron radiators.
---
CLASSIC COLUMN RADIATORS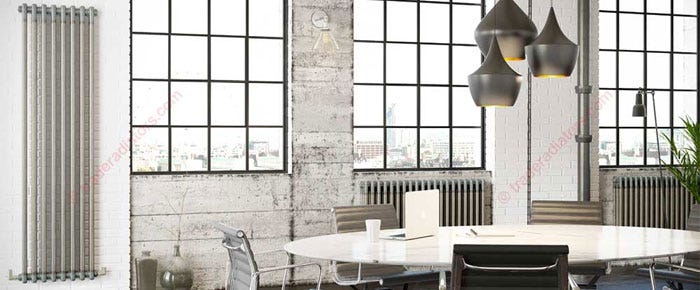 Classic column radiators have become more and more of a popular choice for those seeking to upgrade their central heating systems over the last decade. One of the main reasons is the fact that they look so damn stylish no matter what type of property you have. The long, evenly spaced column sections provide a classy uniformity that never goes out of fashion. This means that they can be installed and will still look good 10 or 20 years from now regardless of passing trends or fads. Classic column radiators nod to the traditional style of the cast iron radiator, but also have one foot in the present, providing that modern twist ideally suited to the smaller and more open-plan property types that tend to exist today. They also benefit from being available in a wide range of sizes, enabling you to find a classic column rad to fit virtually any space in your home, horizontal or vertical. Our classic column choices are vast, especially with regards to colour. We give you the option of white, anthracite or polished metal so that you can really add character to your home in exactly the way you want.
---
BLACK DESIGNER RADIATORS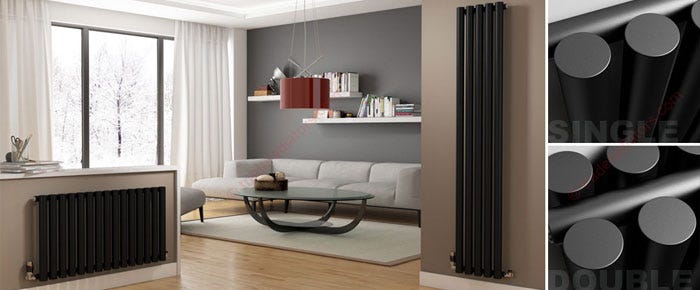 Let's imagine you've got your dining room sorted with a lovely table and chairs and matching wallpaper, but you're lacking something to tie it all together? Or maybe you've got a very large window that has some rather bland, empty wall space either side? Perhaps you've got a minimalist kitchen that is just missing one vital ingredient to lift the room into the realms of the super-stylish? It could be that you're in need of an upscale black designer radiator to get that feeling of completeness into your room. Manufacturers have caught onto the fact that there is now a huge demand for radiators that provide an alternative to white. With many modern, open-plan living spaces finished in monochrome or magnolia, the black designer radiator has become an incredibly popular option for people wanting to finish off their rooms with a snazzy heat emitter. Available in a great range of sizes and styles, we have no doubt that you'll love the look of any of our black designer radiators installed on the walls of your home.
---
ALUMINIUM RADIATORS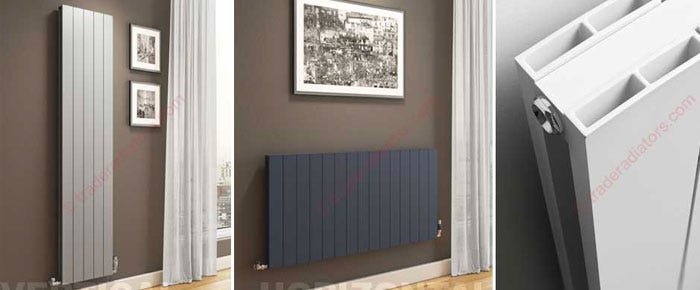 Which metal is incredibly pliable and doesn't lose it's strength even if moulded into strange shapes? Which radiator manufacturing material is incredibly light, resulting in lower transportation and installation costs that are usually passed down to the customer? What is an amazing conductor of heat and can cause heating bills to dramatically reduce, especially in winter? Yes, that's right. It's aluminium. Aluminium has become a very popular material of choice for radiators because of the reasons mentioned above. In a world of increasing energy costs, many people are catching on to the idea that installing radiators made out of aluminium may well be financially beneficial in the long term. Not only that, but they look incredible too and are a fantastic way of introducing some modern character to any room that they're installed in. We have a great choice of sizes, styles and finishes in our aluminium radiator range, enabling you to make a selection that is both aesthetically and financially pleasing.
---
HEATED TOWEL RAILS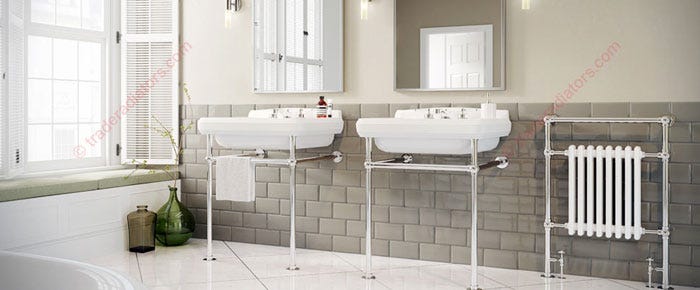 Once of the easiest ways to add character (and practicality) to a room is by installing a lovely heated towel rail. Not only do they add the element of 5 star luxury into your home for a very affordable price, they also provide the very important function of having somewhere to dry and warm towels. The most natural places to install a well-chosen heated towel rail are obviously the bathroom, a cloakroom or ensuite. However, many people are also opting to install heated towel rails in their kitchens and utility rooms, due to their usefulness at drying things like laundry, tea towels, rugs or pet blankets. Heated towel rails also come in a big range of styles and sizes, which is great if you have a large wall space in need of filling or somewhere especially small that you previous thought could not accommodate something emitting heat. The traditional heated towel radiator can provide some rustic charm to any room it's installed in, while a chrome-plated, ladder-style heated towel rail can provide a modern and minimalist twist to a living space. It's definitely worth considering adding a heated towel rail to your environment as they add some instant charm and character in an incredibly economical way.
---
RELATED ARTICLES
•
7 stylish ways to update your bathroom
•
See our collection of over 200 designer radiator photos
•
Our top 5 most stylish traditional radiator valves
---