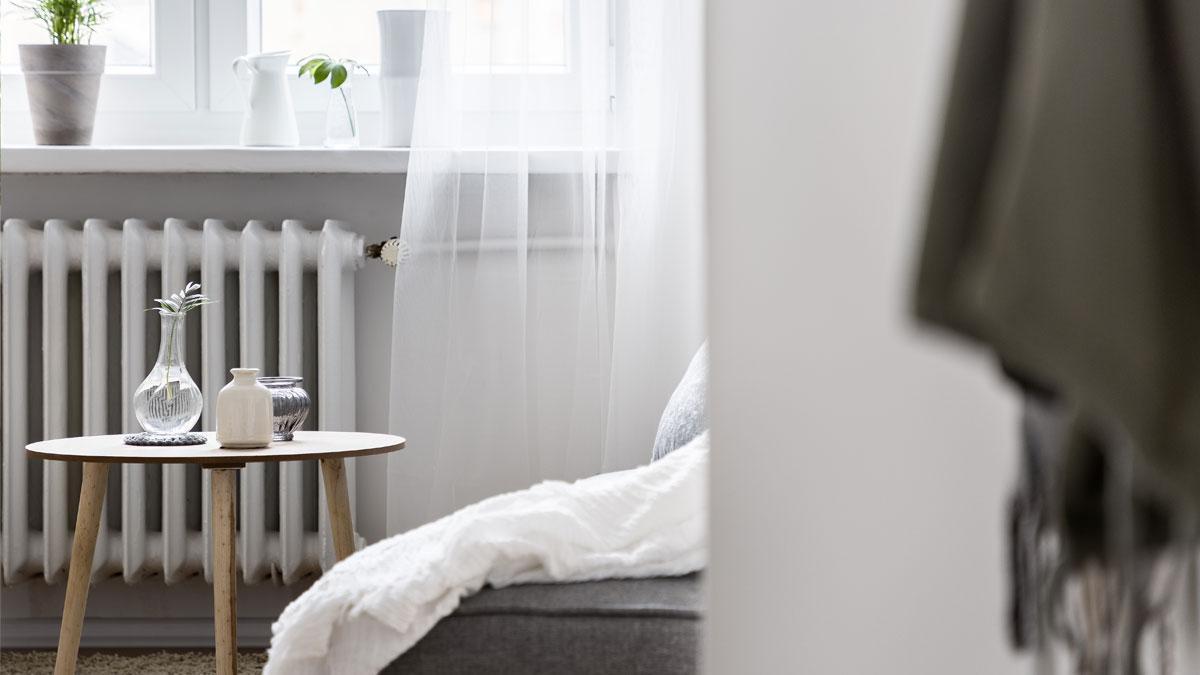 For anyone considering having a new set of radiators installed in their home, then column radiators should really be at, or at least near, the top of the list. Column rads are a very versatile type of radiator that look fantastic in all types of property, from characterful cottages to a sleek city centre apartments to an out of town new build home.
Despite all these qualities, column radiators are often overlooked by those who are only familiar with 'standard' radiators and don't realise there are alternative options. Additionally, some hear the word 'column' and mistakenly confuse them with the more heavyweight cast iron radiators, traditionally found in period homes or historical buildings like churches or old hospitals.
In fact, column radiators are a brilliant middle ground for those seeking to install something different from a standard, white grooved convector radiator, but without going as far as fitting a more cumbersome and ornate cast iron option. If this sounds like the thought process that you have been battling with in regard to your radiators, then column radiators could be the heating solution you've been looking for.
Column radiator styles
Column rads are very recognisable due to their distinctive rows of columned chambers that run from the top to the bottom of the radiator. This is the typical style of a column radiator and the actual design doesn't tend to vary much from manufacturer to manufacturer. That being said, there are some variations within the field of column radiators that it's important to be aware of.
Number of columns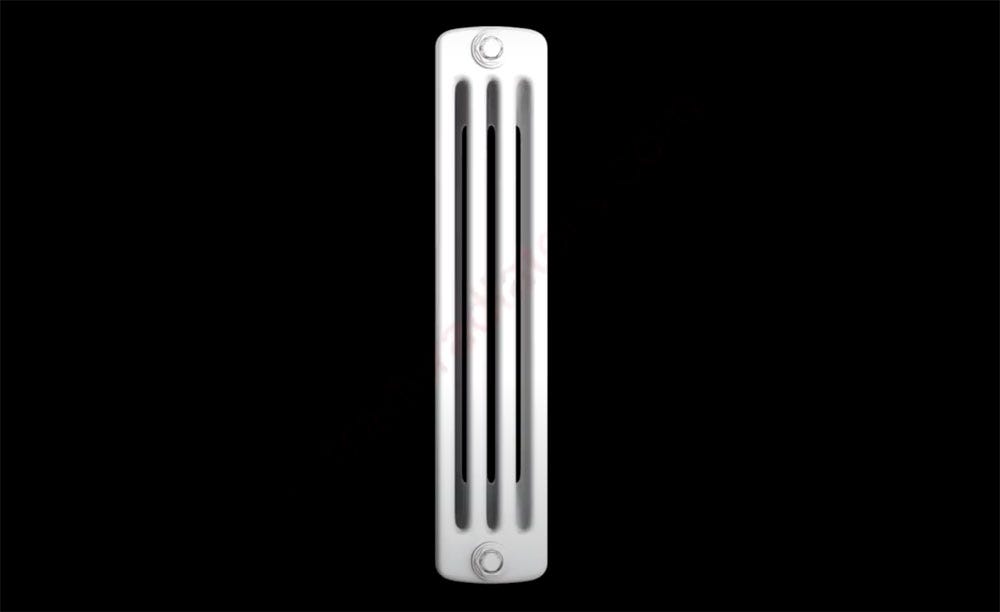 There are a wide range of sizes when it comes to buying a column radiator and you always get a great choice of height and widths. However, when we refer to column numbers we are referring to how many rows of columns there are on the radiator, which will affect the depth or projection from the wall.
Column radiators are commonly available with choices of 2, 3, 4 or 6 rows of columns. A 2 column radiator would be well suited to a narrow space like a hallway or a landing because it won't stick out very far from the wall. At the other end of the scale, a 6 column radiator would be suitable for a very large room as it would be able to stick out from the wall quite a long way without impeding your ability to navigate around the room. Put a 6-column radiator in a narrow hallway and you might have trouble squeezing past it.
The number of column rows also impacts the amount of heat that is emitted from a radiator. A 4 column radiator that measures 600mm x 600mm will put out much more heat than a 2 column radiator that also measures 600mm x 600mm. Due to the extra columns, there is more surface area from which the radiator can emit heat. We display all of the heat outputs (in BTU) on all our radiators to make it easy for you when ordering, but a good rule of thumb is to remember that the chunkier the radiator, the more heat it will emit when compared to a thinner radiator of the same height and width.
Colours
Let's be clear. White is the most popular colour when it comes to choosing radiators and if you ask someone to imagine a radiator, it will almost always be a white one. There's absolutely nothing wrong with that as white is the traditional colour associated with radiators and you can guarantee it will never go out of style.
In fact, many people who want something different from a standard convector radiator want it to be the style that is different, rather than the colour. So for that reason, white column radiators are the perfect choice for those who want a traditional colour but not a traditional design.
However, recent years have seen more people branch out from white and choose a colour that is not a shade typically associated with radiators. For those considering a change then it's important we point out that our column radiators are available in a range of other colours than white.
Anthracite grey

Thanks to their featuring in many TV design and makeover shows (as well as regularly appearing in interior design magazines), radiators finished in anthracite grey have become the 'go-to' colour alternative to white. Essentially charcoal with a silver undertone, anthracite looks great as a radiator colour and is capable of creating a modern and contemporary feel to any room a radiator this colour is installed in.
Not so imposing as black and far less common as white, anthracite column radiators have steadily grown increasingly popular for those who consider radiators to be an important part of their overall design plan, rather than a functional afterthought.
Raw and lacquered metal
There are a lot of people who like the look of cast iron radiators, but don't like the fact they are very heavy or simply feel that they wouldn't look right in their type of property. The design of column radiators provides a suggestion of the cast iron style but with a more contemporary twist. They are also much lighter than cast iron rads and are usually very heat efficient, making them a perfect alterantive.
For those fans of cast iron radiators, we offer some excellent column radiators that are finished in raw or lacquered metal, enabling people to choose a modern radiator that hints at the past. Colours include brass, copper, nickel or bare metal which really help to provide an industrial-chic look to any room.
If you do have a hankering for a stylish radiator with a metallic finish, then these column radiators may well be the best option for you.
At Trade Radiators, we are able to provide column radiators in a whole range of colours, so you are not restricted to the ones highlighted above. Some of our column radiators are able to be custom-coloured with an RAL colour of your choice, so please feel free to get in touch if this service is required.
See all Column Radiator colours >>
Orientation
Again, when getting someone to conjure up thoughts of a radiator in their mind, it is almost inevitable that they will think about a horizontal radiator. For a very long time, horizontal rads were the only type available and it remains very common for these to be fitted in the space under a window or centrally on a wall.
It's sensible to remove an old radiator and replace it with a radiator of exactly the same dimensions so that no additional work is needed to adjust hot water pipes. This helps to keep costs down and disruption to a minimum and, because horizontal radiators were the only option for such a long time, doing a like-for-like replacement makes complete sense. Of course, we offer a massive range of horizontal column radiators and they continue to be our top-sellers.
However, it's important to point out again, that there is an alternative to the traditional radiator option. Just as design and colour are a way to differentiate your radiators from those of the past, going for a vertical orientation is another way of doing it. Vertical column radiators are also available in a variety of dimensions, column rows and colours so you should in no way feel your are missing out of choice or heat output by going for a vertical rather than a horizontal radiator.
While the column design lends itself well to vertical orientation, many make this choice for practical rather than aesthetic reasons. For small rooms that are short of wall space, installing a vertical column radiator is a great way of utilising upward space and ensuring you can still heat the room to a comfortable temperature. Behind doors or either side of windows are popular positions for installing vertical radiators and they also allow for greater choice in furniture placement.
What is the best column radiator?

We've hopefully given you some things to think about when considering a column radiator for your home. The 'best' column radiator is really the one that fits your space, looks good and is big enough to heat your room to a comfortable temperature. If you are unsure as to what heat output you need to ensure your room is heated up properly, then use our free heating calculator to put in your room's dimensions.
A sleek alternative to your 'standard' house radiators, column radiators are traditional and modern encompassed in one stylish radiator. With an extensive range of sizes, colours and from different manufacturers there's sure to be a column radiator solution for your room or full home at Trade Radiators.
---
---
---