Choosing an electric heated towel rail can be a convenient and easy way to introduce a method of drying your towels into your home.
For those without a conventional hot water central heating system, electric heated towel rails mean you are not restricted to installing panel radiators or storage heaters.
Equally, if you do have a standard heating system, an electric towel rail allows you to get the benefits of a useful towel warmer without needing to disrupt to your home by installing new pipework.
In this article we'll explain exactly how electric heated towel rails work.
How an Electric Towel Rail heats up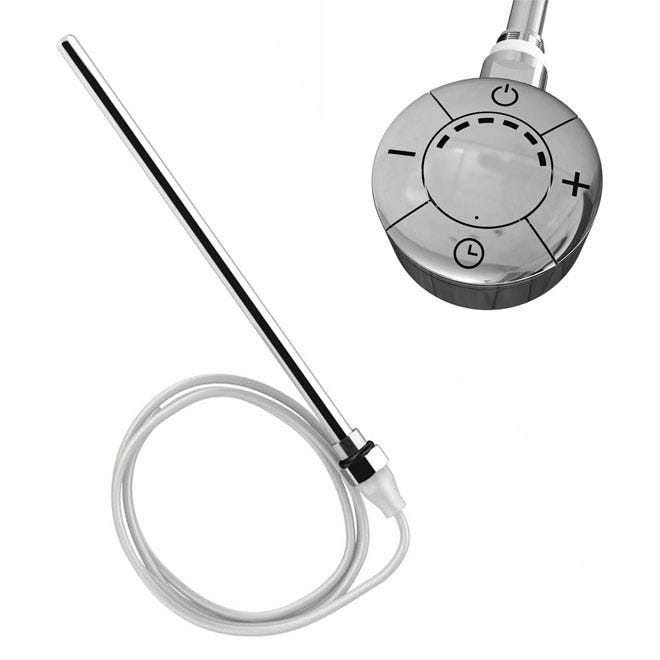 Electric towel rails are connected to your mains electrical supply and are powered by electricity rather than gas-powered hot water.
This type of electric heated towel rail usually contains an electric element which, when switched on, heats up the liquid inside the rails.
When buying an electric heated towel rail, you will normally get the choice of two different types of electric element:
Non-thermostatic, single heat element - The towel rail will remain at a fixed temperature.
Thermostatic, variable heat element - The towel rail's temperature can be adjusted to suit your specific needs.
Differences between Electric and Standard Heated Towel Rails
Installation
As previously mentioned, unlike standard heated towel rails, electric heated towel rails do not need to be plumbed into a central heating system. They do not need to be connected via pipework as they do not rely on hot water to get hot.
However, it is important to note that because electric heated towel rails need to be connected to the mains electrical supply, you must have a qualified electrician to do the job. This will ensure the installation is legal and properly certified.
Heat output
Advances in modern radiator technology means that electric heated towel rails are as efficient and capable of heating a room as their standard counterparts.
The most important thing is that you have an understanding of the size of your room, whether you have any other radiators in that room and the wall space available that will determine the dimensions of your heated towel rail.
If you are unsure how much heat your room requires to ensure it reaches a comfortable temperature, please use our Heating Calculator.
Style
If you think you might be missing out on options because you're purchasing an electric heated towel rail, then you're in for a pleasant surprise.
In the past you may have found your choices limited when compared to standard heated towel rails, but thankfully things have changed for the better since then.
At Trade Radiators, we stock a massive range of electric heated towel rails in a huge variety of sizes, styles and colours so you'll have no problem finding a rail that slots in perfectly with your interior design plans.
Our Electric Heated Towel Rail range
We've got no shortage of electric heated towel rails for you to choose from.
Sizes range from as small as 600 x 400mm right up to 1800 x 750mm in vertical and horizontal orientations.
Colours include chrome, stainless steel, black, white and anthracite and come with a choice of straight or curved bars. You also get the choice of single or variable heat elements, along with smart heating controls.
A small snippet of our selection is available below. Click on the image to view our full range of electric heated towel rails.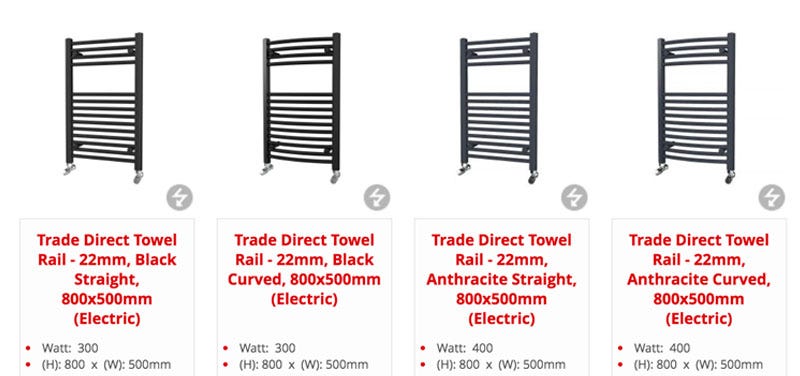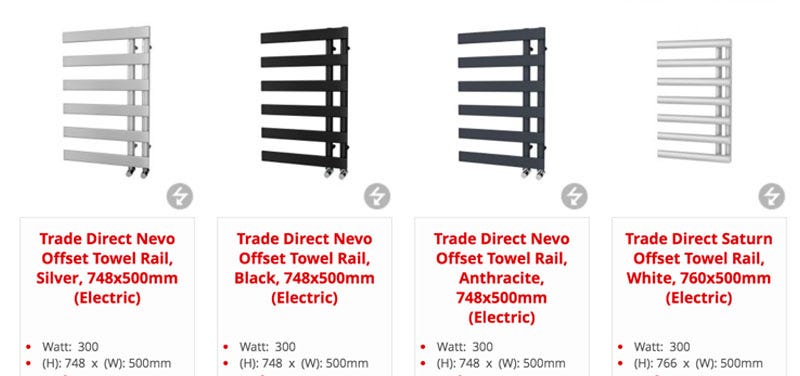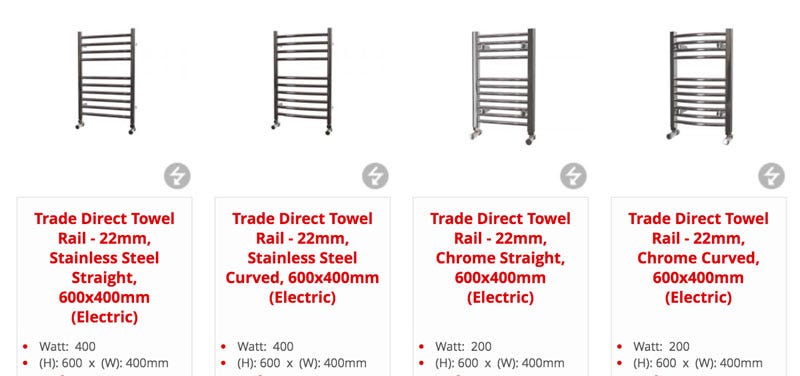 RELATED ARTICLES
• How efficient are electric radiators?
• How to fill your Trade Direct electric heated towel rail