15 August 2023
8 min read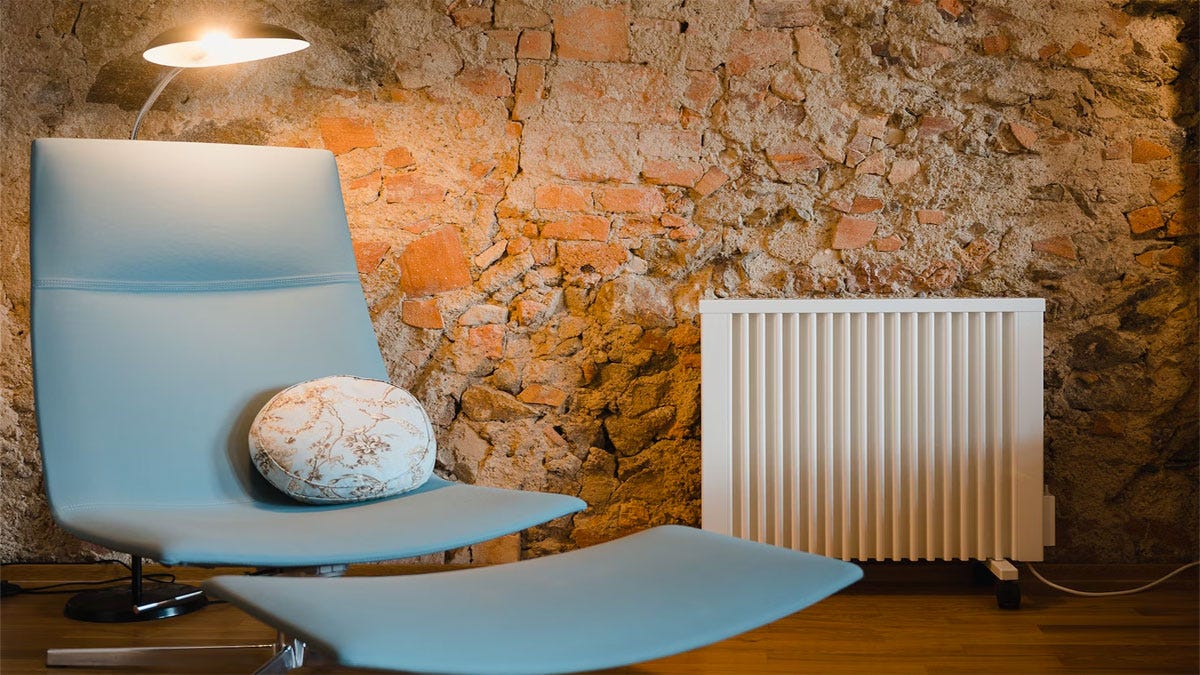 ---
In the chilly climate of the UK, staying warm during the colder months is a top priority. Among the various heating solutions available, oil-filled radiators have gained popularity due to their efficiency and portability. But how exactly does an oil-filled radiator work in the UK, and what sets it apart from standard hot water radiators? In this article, we'll look into the mechanics and explore the pros and cons of using oil-filled radiators in comparison to traditional hot water radiators.
How oil-filled radiators work
Oil-filled radiators are electric heaters that provide warmth through convection and radiation. Inside the radiator, a series of metal fins are filled with a specially formulated heat-transfer oil. When the radiator is turned on, the electric heating element at the base of the unit warms up the oil. As the oil heats up, it begins to circulate through the radiator, transferring heat to the metal fins.
The heated metal fins then radiate warmth into the room, while the natural convection process allows cooler air to be drawn in from the bottom of the radiator, heated as it passes through the fins, and then released as warm air from the top. This continuous cycle of heating, convection, and radiation creates a steady flow of heat that warms the room efficiently.
The heat transfer oil used in this type of radiator is typically a specialised mineral oil or diathermic fluid. This oil has excellent heat retention properties, allowing it to absorb and store heat efficiently. The specific formulation of the oil is designed to withstand high temperatures without breaking down or deteriorating over time. As the electric heating element heats the oil inside the radiator, the oil circulates through the metal fins, transferring heat to them. This heat is then radiated into the surrounding air, warming up the room.
The use of heat transfer oil is integral to the radiator's functioning, as it enables the rad to maintain a consistent and prolonged heat output even after the heating element has been turned off. The oil's ability to retain heat makes oil-filled radiators energy-efficient and provides a comfortable and steady heat source.
The differences between oil-filled and dry electric radiators
Oil-filled electric heaters and dry electric heaters are both types of electric space heaters, but they operate in slightly different ways and offer distinct advantages. If you don't have a mains gas supply and gas-powered, hot water central heating is not an option, some sort of electric radiator will be your most conveient heating option.
Oil-filled electric radiators
Heating Mechanism: Oil-filled electric heaters contain a special heat-transfer oil that is heated by an electric heating element. The heated oil circulates through the unit, transferring heat to the metal fins and generating warmth through convection and radiation.
Heat Retention: One of the primary advantages of oil-filled heaters is their ability to retain heat even after the heating element is turned off. The stored heat continues to be released into the room, providing a more consistent and gradual heat output.
Efficiency: Oil-filled heaters are known for their energy efficiency. The heat transfer oil's ability to store and release heat allows the heater to cycle on and off less frequently, consuming less electricity overall.
Silent Operation: Oil-filled heaters operate silently since there are no fans or blowers involved in the heating process. This makes them ideal for maintaining a quiet and peaceful environment.
Safety: The exterior of oil-filled heaters remains relatively cool to the touch, reducing the risk of burns or accidental contact with hot surfaces. This is particularly advantageous for households with children or pets.
Dry electric radiators
Heating Mechanism: Dry electric heaters, also known as ceramic or fan heaters, use a heating element, often made of ceramic material, to generate heat. Some models also incorporate a fan to help distribute the warm air into the room.
Instant Heat: Dry electric heaters tend to provide more immediate heat since they don't rely on the stored heat from an oil reservoir. As soon as you turn them on, they start emitting warm air into the room.
Portability: Many dry electric heaters are compact and lightweight, making them highly portable and easy to move from room to room.
Variability: Some dry electric heaters come with adjustable settings that allow you to control the heat output and fan speed, giving you more control over the level of comfort.
Cooling Functionality: Some dry electric heaters offer a cooling option, which can be useful during warmer months. They can function as fans, helping to circulate air and provide a cooling breeze.
Oil-filled heaters are known for their gradual and energy-efficient heat output, while dry electric heaters provide more immediate warmth and often come with additional features like adjustable settings and cooling functions. The choice between the two depends on your specific heating preferences, the desired level of control, and the type of heating experience you're looking for in your space.
The differences between oil-filled radiators and hot water radiators
While both oil-filled radiators and standard hot water radiators aim to provide warmth, they operate on different principles. Hot water radiators are part of a central heating system that uses heated water to distribute warmth throughout the building. This heated water flows through pipes and radiators, emitting heat into the rooms. In contrast, oil-filled radiators are standalone units that do not require a central heating system or water circulation. This makes them particularly suitable for smaller spaces or areas that need supplemental heating.
Opting for an additional oil-filled radiator, even when you have a hot water central heating system, can offer several practical benefits and enhance your overall heating experience. For example, there might be specific areas in your home that require extra warmth, such as a chilly corner, a drafty room, or a space not effectively reached by your central heating system. Placing an oil-filled radiator in such an area can provide targeted and efficient heating without the disruption and expensive of installing new pipework to accommmodate a new hot water radiator.
Benefits of oil-filled radiators
Localised Heating: Oil-filled heaters are ideal for targeting specific areas that need extra warmth. This is useful for supplementing heating in drafty spots or rooms that are not adequately reached by the central heating system.
Quick Heat: Oil-filled heaters provide immediate warmth upon turning them on, making them useful for quick heat boosts in smaller spaces.
Short-Term Cost Savings: Using an oil-filled heater to warm a single room instead of the entire house can save on energy costs, especially if you only need to heat one area. Installing oil-filled heaters into a home also has a much lower upfront cost than a full, hot water central heating system.
Portability: Many oil-filled heaters are portable and can be easily moved from room to room, allowing you to focus heating where it's needed most.
Flexibility: You can adjust the heat output of oil-filled heaters independently, which is particularly useful for creating personalized comfort zones.
No Installation Required: Portable oil-filled heaters don't require installation or connection to a central system, making them convenient for renters or temporary heating needs.
Benefits of hot water radiators
Efficient Whole-House Heating: Hot water central heating systems are designed to heat an entire home evenly. Radiators are strategically placed in different rooms, ensuring consistent warmth throughout the living space.
Centralised Control: With a central heating system, you can control the temperature of your entire home from a single thermostat. This provides convenience and the ability to maintain a consistent and comfortable temperature.
Long-Term Cost Savings: While the initial installation of a central heating system can be an investment, it often results in long-term cost savings. Central heating systems are generally more energy-efficient than using individual electric heaters, which can lead to reduced energy bills over time.
Automated Heating: Many central heating systems come with programmable thermostats that allow you to set heating schedules based on your daily routines. This means you can wake up to a warm house without having to manually adjust heaters in each room.
Aesthetic Integration: Radiators can be integrated into the design of your home. Modern radiators come in a variety of styles, sizes, and finishes to match your interior decor.
Even Heating Distribution:

Central heating radiators provide uniform heating across rooms, eliminating cold spots that can occur with localized heaters.
Is an oil-filled radiator right for you?
The choice between a hot water central heating system with radiators and oil-filled heaters depends on various factors, including your heating needs, budget, and preferences. If you're looking for consistent and whole-house heating with centralized control, a central heating system is the way to go. On the other hand, if you need targeted heating for specific areas, quick heat, and flexibility, oil-filled heaters can be a suitable option. Some homeowners even use a combination of both systems to achieve optimal comfort and energy efficiency.
You may also want to consider dry electric heaters. There is a huge choice available of wall-hung, energy-efficient, dry electric heaters that allow you a great deal o control over your electric heating.
At Trade Radiators, we have a large selection of electric heating solutions in stock with prices that you won't find anywhere else. Our range promises simple but effective electric heaters that will match the décor in any room. With excellent efficiency as well as high BTU outputs, our electrical options allow you to get the best of both worlds.
Our electric heaters only require a plug outlet, so you can have it installed in a flash. Once it is installed, it does not require a large amount of maintenance due to its incredible standard of robustness and the premium materials used in its construction.
This makes our electric heating options an ideal solution for those who want a new heating solution without too much hassle. Shop our range now and purchase your ideal electric heating solution today.
Electric radiators at Trade Radiators