Very small radiators that pack a punch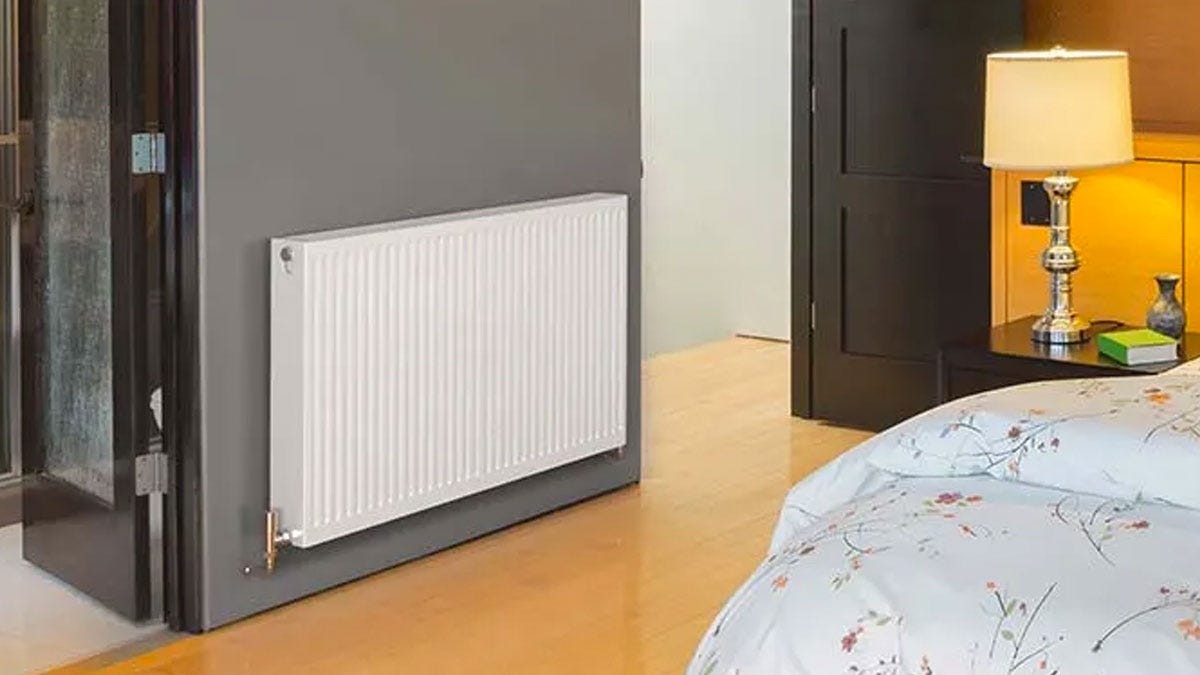 If you've got a room in your home where there's a limited amount of space to put a radiator, you might be worried that you won't find a rad big enough to be capable of heating the room comfortably. Fortunately, just because a radiator is small in dimensions, it doesn't necessarily mean that it isn't able to pack a punch and heat your room. In this article, we'll take a look at some radiators that are perfect for small spaces but can still kick out some serious BTUs.
Heating calculator
Before you even start looking at radiators, the first thing you need to do is use our heating calculator to establish how many British Thermal Units you need to heat your room.
By inputting some measurements and a few pieces of additional information, our heating calculator will let you know the necessary heat outputs you need to ensure your room is heated to a comfortable temperature.
All of our radiators are listed with their heat outputs listed in BTUs and Watts, so once you have your heat output figure for your room, you can set about choosing a radiator safe in the knowledge it will be the right radiator for your space.
The chunkier the better
If you're looking for a small radiator that can emit some serious heat then an important point to look at is the depth of the radiator and how far it projects out from the wall. A radiator with a large projection measurement is likely to have some characteristics that allow it to emit more heat.
For example, a double panel convector radiator is going to emit a lot more heat than a single panel radiator of the same height and width. The extra panel (and extra convector fins in between the panels) provide a greater surface area from which to emit heat. Likewise, with radiators in the classic column style, the more rows of columns the radiator has, the more heat it will emit.
Small radiators that come with extra panels or column rows are likely to be the kind of radiator you need for a small installation area that still needs to provide a good amount of heat. The only thing to make sure is that you have enough room to walk past a chunkier radiator without it jutting out into the room too much. This is particularly an issue in narrow areas like hallways or landings, so when choosing a radiator, double check the projection measurement to make sure you're comfortable with the amount the radiator will protrude into your room.
Top small radiators with high heat outputs
Below are a selection of our favourite small radiators that are still capable of kicking out some serious heat. You can click through to the product pages on our website to purchase these radiators if you think they look like great candidates for your room in need of heat.
K-Rad Compact Radiator 300 x 400mm
This compact convector radiator is made by well-known radiator manufacturer, Kartell, and is a great option if you're looking for a small radiator with some kick.
This is a Type 22 radiator which means it has double panels and double rows of convector fins. Despite its small dimensions of 300 x 400mm, it is able to emit a large 1432 BTUs. It comes with factory fitted top gril and side panels which are popular features as they disguise the convetor fins in bewteen the panels.
Made from a high-grade Steel and with a brilliant white finish RAL 9016, this modern and versatile heater is available in just delivery in 7-10 days with a comprehensive 10 year guarantee. Also supplied with wall brackets, bleed valve and blanking plug for a convenient set-up, do not miss out on this extraordinary deal, while stocks last.
Stelrad Compact Radiator 300 x 500mm
Stelrad have been manufacturing high-quality convector radiators for a very long time and this neat compact offering is no exception. 300mm in height and 500mm in width makes this horizontally-orientated radiator a fantastic option for a room that has a low but wide space available, such as under a window.
With a double panel and double convector design to give you 1675 BTUs, this immaculate type 22 model also has a lush white finish and an integrated top grille with side panels to suit any small space in need fo heat in your home.
Also featuring precision welded convectors and flexible connection options to reduce your energy bills and operating costs, get your small designer radiator that packs a punch delivered in 2-4 days only and receive a comprehensive 10 year guarantee.
Trade Direct 4 Column Radiator 300 x 1340mm
A great radiator for a wide but low space that is in need of heat, this Trade Direct Column Radiator has 4 rows of columns and is capable of emiting an absolutely huge 6094 BTUs. This would look particularly good under a large window and offers a serious amount of heat for its size.
Regardless of the type of property you have, you can be sure that this lovely radiator will look as tremendous in an open plan modern apartment as it would in a quirky country cottage or a grand Georgian townhouse. This high quality column radiator also looks good in a range of rooms, making it a popular choice for anywhere around the home.
Finished in a beautiful white powder coating, this radiator comes with a 15 year guarantee and free delivery to all mainland UK addresses. All necessary wall fixings are provided with the radiator as well.
Reina Slimline Radiator 470 x 300mm
The smallest vertical radiator in our catalogue, this offering from respected manufacturer Reina is a stylish choice for a small area where you can talke advantage of a bit of upward space. The heat output is 632 BTUs and is really impressive for such a small and discreet radiator.
The aesthetic of the Reina Slimline makes it one of the market's most fascinating designer radiators. It looks like a single flat panel, very slim, coloured White with an attractive gloss finish.
Its deceptively simple design is actually very sophisticated, and the robust steel assembly means its durable and hard-wearing as evidenced by its comprehensive 10 year guarantee. This would be great if you're looking for an alternative to a standard convector radiator.
Paladin Churchill Cast Iron Radiator 350 x 221mm
Looking like a chunky little bulldog, this aptly-named Churchill Cast Iron Rad from British manufacturer Paladin is an absolute beauty. Beautifully proportioned, this tiny little radiator is actually capable of emitting 1194 BTUs due to its 7 column design and is a fantastic choice for anyone with a period property that needs a small radiator to put out some serious heat.
If you want to give your commercial or home space a more traditional rustic edge or create a striking centrepiece, cast iron radiators are an incredible way to add this. These rust-resistant radiators are all made to order and individually finished to your specification using the original methods pioneered over 150 years ago.
These ornate radiators come in a stunning range of metallic-themed finishes or can be customised to any colour of your choice. Simply contact us for more details and we'll let you know what's possible!
---