We'll come straight out with it. This is not an 'improve your bathroom on a budget' article. There's plenty of those around and they serve a great purpose if you need to make some bathroom upgrades cheaply. Absolutely nothing wrong with that whatsoever. However, if you've got some money to spend and you're intent on adding some serious style to your bathroom, wet room or ensuite, then this post will give you a huge amount to think about. Open your mind and prepare to be amazed as we introduce you to some design concepts from around the world. These concepts will transform your bathroom from just another room in your house, to an oasis of calm and tranquillity.
---
1. Designer Hotel Swank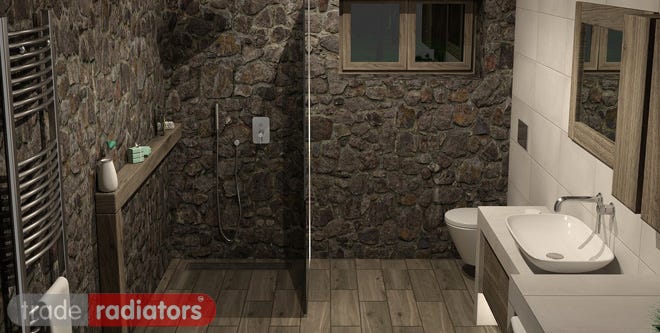 At the bottom end of the hotel range, we've seen a huge increase in the self-service, capsule-style accommodation, perfect for the overnight traveller who simply needs somewhere to rest their heads. They tend to be devoid of character and homogenised so that once you step inside, it doesn't matter where in the world you are, it feels the same. Not a criticism. A simple statement of fact. At the other end of the scale, there has been a big rise in luxury 'boutique' hotels, where nothing is the same and every single room is furnished and styled differently. Their bathrooms are often a joy to behold, offering up a stylish mixture of specialist lighting, vintage furniture and even two basins - particularly practical for couples! To achieve the chic hotel look, you could start off with a
traditional bathroom radiator
and move on from there.
---
2. Mix up rough & luxury materials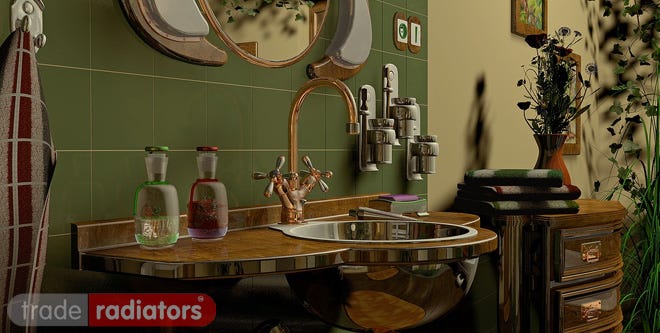 One of the trendiest hotels in London right now is the Grade II listed Rough Luxe Hotel in Camden Town.
This is Rough Luxe. Half rough, half luxury. A little bit of luxury in a rough part of London. A little bit of rough in a luxurious London. - The Rough Luxe Hotel, Camden
Their hotel is designed according the the principles of 'Rough Luxe', an aesthetic philosophy that combines the use of old and new materials. Or, quite simply, rough with luxurious. Think wood and marble. There's no reason why you can't do this in your bathroom. Mixing wooden beams with
metallic fixtures
, or marble tiling with quirky vintage furniture, would be a couple of excellent ways of achieving this effect and lift your bathroom above the norm.
---
3. A Japanese Zen bathroom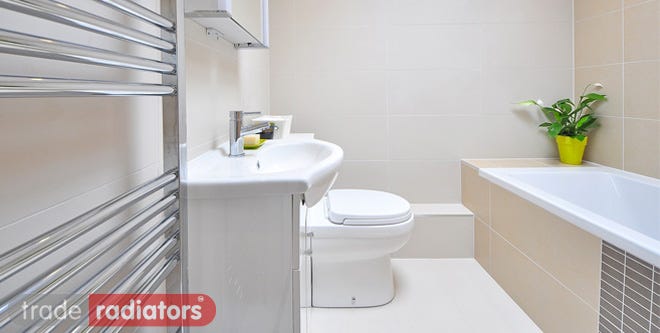 Calmness. Enlightenment. Meditation. Liberation. Finding one's true self. Squeezing these incredible doctrines of the Japanese variant of Chan Buddhism into your bathroom is entirely possible and surprisingly simple. They may unconsciously be part of your intended plans for your bathroom already. Minimalistic and uncluttered is the order of the day for achieving maximum zen in your bathroom. Some popular ways of doing this are by installing a wall hung toilet, hiding your cistern and putting spotlights in a recessed ceiling. Large, rather than mosaic, tiles will give the impression of clean smooth lines, thanks to the distance between the grouting. Using light and dark shades of the same colour (tonal colouring) as well as employing the use of natural woods will also contribute to that feeling of complete Japanese serenity in your oasis of ablution.
---
4. Open plan lavation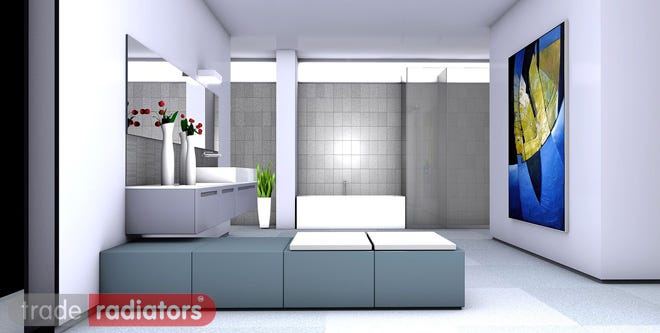 Watch any interior design or property renovation show and you'll see the fashion for open-plan living. Indeed, no weekday lounging-around session watching Homes Under The Hammer is complete without Martin or Lucy (or Dion) recommending that the new owner should 'get rid of this wall to open it up a bit.' If you've got a large bathroom, then you've got an in-built advantage. It's much easier to keep things open plan if you've got the space to work with, but how do you apply this to the more common small bathroom? One of the best ways to do this is to strip out your shower tray and perspex door. In it's place you can construct a small dividing wall with a walk-in shower, akin to a wet room. Combine this with a minimalist bathroom suite, large mirrors and some designer taps and shower head, and you've got yourself the open-plan effect in a very small space.
---
5. Do like the Danes & Swedes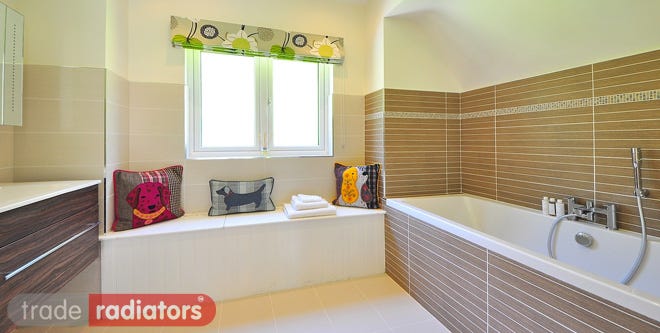 If you've ever had a swig of Carlsberg or tucked into their bacon, you're officially an authority on Danish culture. Likewise for Sweden if you've ever driven a Volvo or bought some bookshelves in Ikea. All jokes aside, these Scandewegian countries know a thing or two about design and finding the perfect life-work balance. There's a reason these two nations frequently top the 'Best Places To Live' charts when it comes to happiness and satisfaction. The Danish have the word 'hygge' which roughly translates to cosiness and the Swedes live their lives according to 'lagom' or restraint and simplicity. Your bathroom is the ideal place to apply these ethics by keeping things simple. Again, a minimalist bathroom suite will be suitable, as will oversized wall tiles. Lift things up off the floor and wall-mount them wherever possible to create the impression of floor space. You can also utilise hidden storage space to keep things out of view, to declutter surfaces and increase the feeling of simplicity.
---
6. Shower in the Purple Rain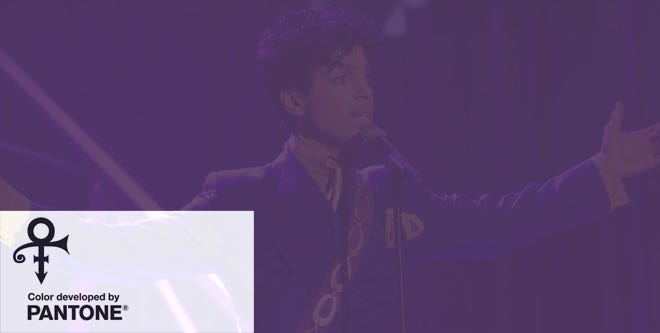 If ever, whenever you need someone to take a shower with, Call me up, please. Extra lovable, honey don't you wanna, don't you wanna Take a bath with me? - Prince, Extralovable, 1982
Back in August 2017, the Pantone Color Institute made the announcement that they had unleashed a new shade of purple in honour of His Royal Badness, named Love Symbol #2. Not only was this an entirely appropriate way to honour one of the most imaginative and creative genii in musical history, but it also sparked a bathroom trend that the famously image-conscious Purple One would entirely approve of. As a contrast to the standard white bathroom suite and tiling, it has become The Latest Fashion to throw in a purple feature wall. This funkalicious splash of colour may be a Sign O' The Times, but it's a very easy and effective way of creating The Most Beautiful Room In The World. Instead of Diamonds & Pearls, fuse it with some chrome-plated accessories like taps and a towel rail, and, voila.... U Got The Look of a thoroughly regal bathroom, fit for a Prince.
---
7. A bathroom greenhouse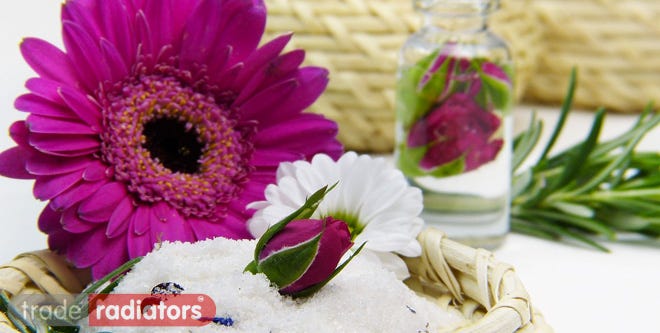 Contrary to many people's opinions, bathrooms do not have to be all white (Michael Barrymore), or even aqua, which is French for water (Alan Partridge). One of the simplest ways of differentiating your humble bathroom is by adding some greenery in the form of potted plants. You can always cheat and go for some low maintenance fake plants, but with the humid and moisture-rich atmosphere of a bathroom, you may experience the problem of mould. Far better to choose some plants that thrive in these rainforest conditions such as ferns, orchids or spider plants. Not only will vegetation inject some colourful flourishes into proceedings, you'll also feel the health benefits of reduced carbon dioxide, nitrogen dioxide and airborne dust particles.
---
---
---